Your Partner For Training, Consulting And Development In DevExpress eXpressApp Framework (XAF)
Xari offers custom software development, consulting, outsourcing and complete in-depth training in the DevExpress eXpressApp Framework: the most efficient .NET Application Framework for Desktop and Web Line Of Business (LOB) apps.
How can we help you with XAF?
Simply said XAF delivers highly responsive apps targeting Windows, Web and Mobile. 
Have you done a prototype in 20 mins? We have. 
Xari provides XAF Training tailored to meet the needs of the client. Whether you are a novice or an experienced developer, we guarantee our training will be a helpful resource to expand your skillset. You'll get in-depth development insights from our trainers on the topics of building, publishing and deploying your XAF app in Windows and Web.
Are you stuck in your XAF project? We have a passion for solving riddles and roadblocks. Is it in XAF Windows, WebForms or Blazor? Maybe Testing, DevOps, Rest APIs, CI/CD, or Deployment. Whatever the case Xari Consulting Services can help. (Not Limited to XAF/XPO but to any .NET solution)
Demand for XAF developers is at an all-time high, specially in XAF Blazor that is why XAFers Training and Xari are offering a new program. From Training to Job in less than 6 month.
Top-Quality Custom Enterprise XAF Development Services. Web, Desktop, Mobile, IoT, Blockchain and more. Our Team ranges from Seniors to DevExpress and Microsoft MVPS. When time to get results becomes a priority, Xari and XAF delivers.
Are you moving from Crystal Reports to DevExpress XtraReports? From Power BI to DevExpress Dashboard? Our BI experts can guide you step by step to achieve a successful migration. We also have a couple internal tools to make the conversion a walk in the park.
Xari is all about excellence, passion and flexibility
Looking for fast development of .NET applications for web, tablet and desktop?
 XAF is an ORM-based .NET application framework designed so that you can create online business applications in the shortest possible time. Xari can make that path even shorter.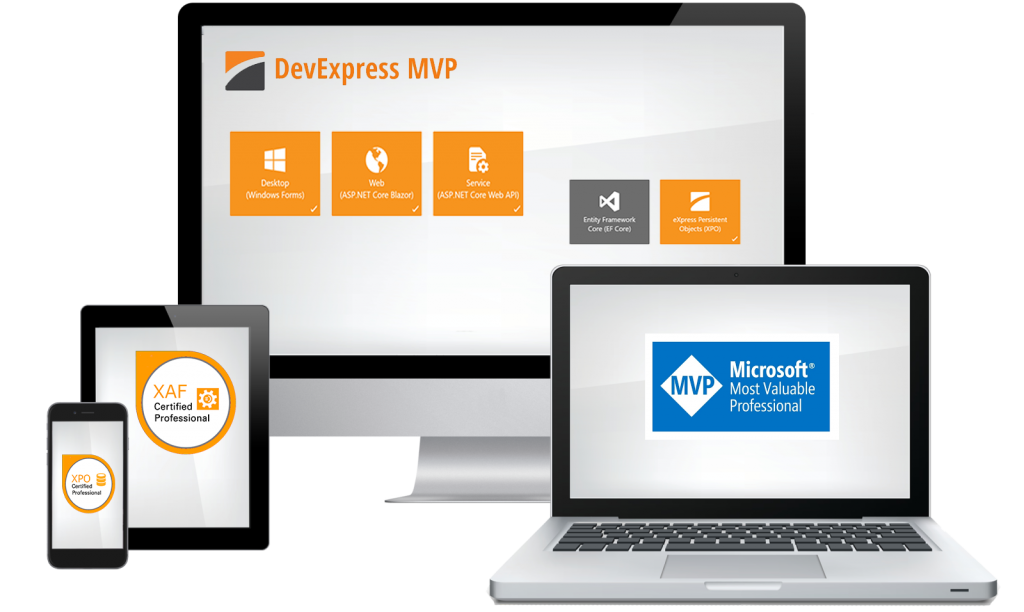 The DevExpress eXpressApp Framework (XAF) is the first single-code base framework that allows you to create functional and highly responsive apps with C# or VB  targeting both Windows, the Web and Mobile. Xari has hundreds of successful technological solutions developed with XAF.
As your Model grows your database (tables, columns, etc) are created for you. Your views (detailview, listview, lookups) are generated for you. XAF takes care of all Low level tasks so you can focus on giving value.  Needs to customize the UI? Tune your app for performance? Xari can help.
Charting, mapping, reporting, scheduling, security, analytics , validation and more. DevExpress eXpressApp Framework includes over 20 featured ready-to-use modules that can be easily integrated in your existing XAF application today. All of them are fully customizables. Xari has several custom modules of its own: Licensing, SyncFramework, Data Import, Export and a lot more.
Whatever your needs is, we can help you master the framework we love.
XAF Customer Success Stories
We work with a couple of people trained by Xari and we just hired a new dev of our own. This is a good idea.
Dave Hesketh
DevExpress MVP AND Llamachant CEO
Xari has everything you need for training, and consulting. An elite team comprised of DevExpress and Microsoft MVPs, real life experience with productions apps and a passion for XAF like no other company.
Yordi José
System and Computer Engineer - CORAASAN
Xari has saved us hundreds of man hours. They built a complete ERP solution for us while training our team to continue with the project. We still contracted them in a Consulting basis and welcome one of their devs to our team.
Brian Benene
Chief Operating Officer
Most frequent questions and answers
Having delivered hundreds of  XAF projects, we offer you the ideal trainers, consultants and developers to coach and mentor you through the process of learning and working with XAF. Have you done a prototype in 20 mins? We have. Put us to test. 
In simple words, we evaluated all other frameworks out there: ADF from Oracle, LightSwitch from Microsoft, etc. When we found XAF we converted and old project that took 2 months in a couple days. Needless to say, we fell in love.
Our support is not limited to Blazor or XAF but to any .NET solution (Mobile, Web, Desktop, etc) DevOps, CI/CD and Deployment are also part of our day to day.
A Xari staff assigned completely to you for the whole month
Daily meeting to discuss progress and gather new requirements
If there is a roadblock or a complicated scenario, Xari would offer consulting free of charge.
Bi-weekly meeting with us to discuss overall satisfaction with the state of the system and the developer.
We take your intellectual property rights very seriously. To make sure your ideas stay yours, and at your request, we sign a strict NDA from day one to secure your exclusive ownership of the codebase and other deliverables
Our team is distributed all around the world and our clients as well. Our two main languages are English and Spanish but we have done crazy projects with a Chinese client using Azure Speech Translation Cognitive Service.